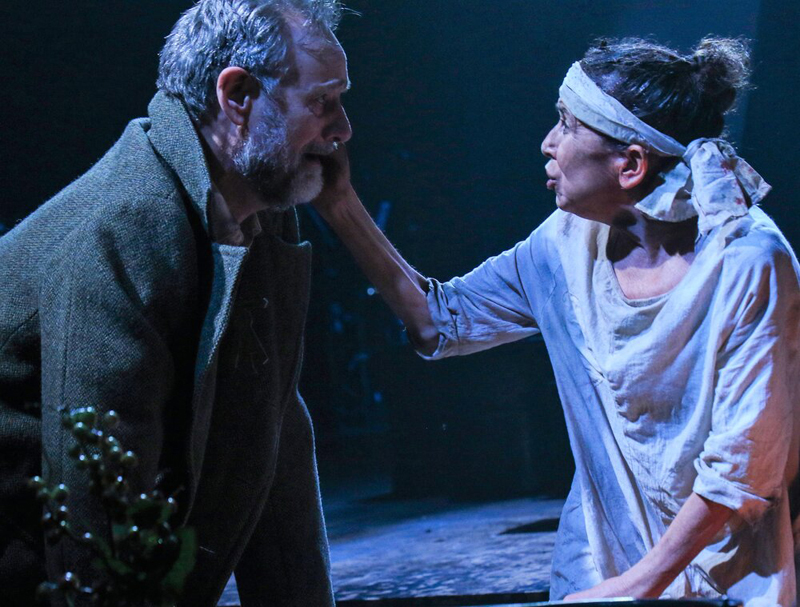 Timon of Athens, Winter 2020
Directed by: Simon Godwin
Broadway World Washington
"Amid the splendid cast, another standout is John Rothman, as Timon's trusty chief steward. The actor, who was Emmy-worthy in his role in the Tig Notaro Amazon series "One Mississippi" here shows the same humanity and precision."
The Wrap
"Standouts in the cast…including John Rothman as the loyal servant whom she turns on."
DC Metro Theater Arts
"Led by the riveting John Rothman in his turn as Flavius. As level-headed as he is desperate to save her, Flavius speaks from a hard-won knowledge of the nature of his Athens."
Theater Pizzazz
"Flavius (nobly portrayed by John Rothman), Timon's head-of-household, tries repeatedly to warn Timon of her impending financial doom."
New York Stage Review
"Another notable performance is delivered by John Rothman as Timon's faithful and tearful steward."
MD Theater Guide
"Flavius – memorably played by John Rothman."
DC Theater Scene
"Rothman imbues the play with an air of much-needed dignity and steadfastness."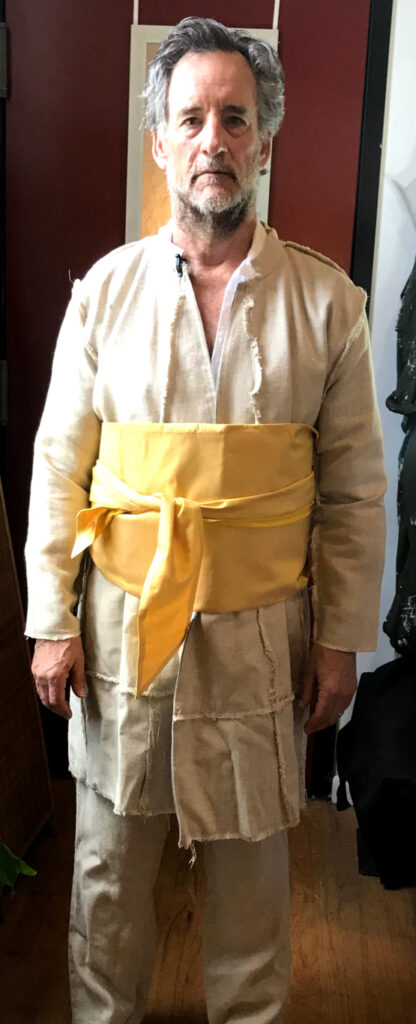 The Merchant of Venice, Summer 2018:
Directed & Adapted by: Karin Coonrod
The Hartford Courant
"All the Shylocks have their moments, but I was bowled over by the great John Rothman, who plays the role during the concluding trial scene. He rails eloquently, with exquisite world-weariness. It helps that one of his persecutors is played by Linda Powell, a forthright and imposing Portia who's a worth adversary for the whole pack of Shylocks."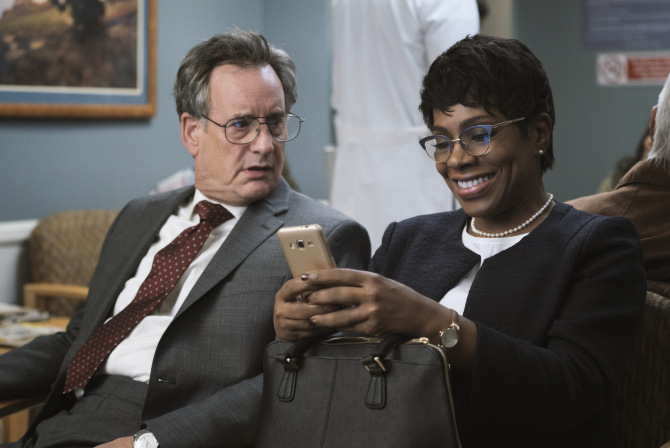 One Mississippi, Season 2
Created by: Tig Notaro, Amazon 2017
"John Rothman also played a parent teetering on the verge of crises — his own and other people's — in the wonderful Amazon comedy "One Mississippi." Few characters were as instantly recognizable as Rothman's character, Bill — a controlling dad who had to have everything done his way, which made his relationships with his wayward adult kids rocky, to say the least. But Rothman's tremendous performance allowed the viewer to see the core of sweetness and the fierce love that drove Bill's worrying and nagging. Bill found it hard to tell his family members how he felt about them, but Rothman made those strong emotions beautifully clear and present."
MAUREEN RYAN'S 20 BEST TV SHOWS OF 2017
"As those of us who cover pop culture struggled with the outpouring of stories about sexual harassment, assault and predatory behavior, many rightly pointed to "One Mississippi's" sensitive portrayal of the ways in which its characters grappled with both childhood sexual abuse and an arrogant harasser in the workplace. The latter storyline, which had clear echoes of the facts that have come to light about executive producer Louis C.K.'s behavior, was extraordinarily well done. But "One Mississippi" is a quiet show that contains multitudes: It continued to be an honest but loving portrayal of the political and social fault lines one particular town, and a portrait of the limits and comforts of family loyalty. I love John Rothman's Bill so very much, and watching Bill and Tig Notaro's lead character find love after a profound loss was just lovely."
AVCLUB.com
"John Rothman, divine as ever!"
Variety
"Once again, John Rothman is a joy to watch; if the show merely existed as a Bill delivery system, that would be enough. Whether Bill is instructing Tig and Remy on the proper way to load a dishwasher, reacting to the lazy textual analyses he hears in his book club, or working up the courage to ask a new friend out for dinner, he is always a pure delight. Rothman imbues Bill's tentative willingness to step outside his comfort zone with deeply winning vulnerability, and yet Bill's rigidness continues to be an amusing source of family comedy. It's lovely to watch him contend with the idea that his love of rule-following could be a feature and not a bug for a potential romantic partner."
TheWeek.com
"Rothman continues to shine as Bill, Tig's repressed, tightly wound stepfather. He creaks from the strain of his irritated plans and good intentions, and his journey is easily the most satisfying (it's hilarious, too)."
One Mississippi, Season 1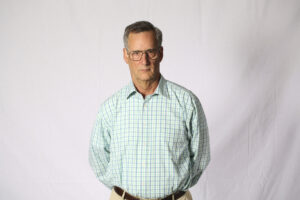 IndieWire – 16 Breakout Performances of 2016
"John Rothman portrayed the various levels of Bill (Tig Notaro's longstanding step-father on 'One Mississippi') so well that even though we immediately sparked to the humorless, ritualistic patriarch, he became all the more lovable, likable, and impressive as his background was unveiled. Credit to the writers, of course, but Bill was brought to life by Rothman's focused portrayal. He didn't play too hard into the strict or human moments within Bill's scenes as he carefully built a complicated man from the ground up. A veteran character actor dating back to the original 'Ghostbusters,' we're hoping this impressive turn allows Rothman the opportunity to explore more roles than ever before."
The New York Times
"Terrific."
Vulture
"Rothman's delicate layering of resentment and anger … should be studied by aspiring actors who want to know how to illustrate a basic aspect of the human condition over a long span of screen time without underlining or boldfacing anything. … [The final episode sheds] light on what's been best about the show. Namely, John Rothman. … Tig Notaro may be the creator and star, but One Mississippi belongs to John Rothman. … His performance is exceptional."
The Hollywood Reporter
"A marvel."
The Atlantic
"Aside from Notaro, the main standout of One Mississippi is John Rothman."
CNN
"Wonderful."
Uproxx
"The stand out performance of the series comes from Rothman."
Yahoo!
"Marvelous."
The Los Angeles Times
"The marvel of One Mississippi…a beautiful portrait of a man who has just lost his emotional translator."
NPR
"One Mississippi isn't a one-person project by any means; there's a stellar turn…from John Rothman."
PERICLES, by William Shakespeare
Directed by: Trevor Nunn, The Theater for a New Audience, Brooklyn / 2016
Photo: Gerry Goodstein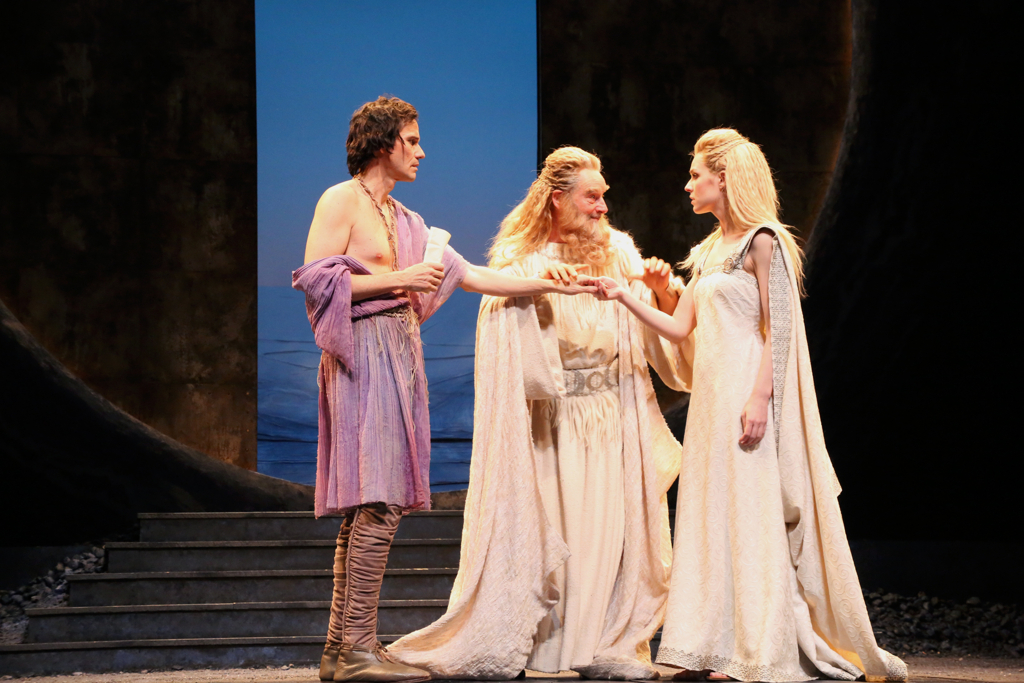 "As Simonides, John Rothman strikes exactly the right tone … delivering it with verve and conviction. Rothman has a twinkle in his eye …. He wins the audience over with his almost panto-like glee " –Huffington Post
"It is Rothman who makes the most vivid impression … his King Simonides is vitally fun and engaging." –Hollywood Reporter
I particularly enjoyed John Rothman's King Simonides –Vulture ( New York Magazine)
Photo: Gerry Goodstein
"… animated and hilarious." –Theater Pizzazz
" JohnRothman's Simonides is particularly rich.Like all great Shakespearean actors, there is not a vowel he does not embrace. Berkshire Fine Arts
Photo: Gerry Goodstein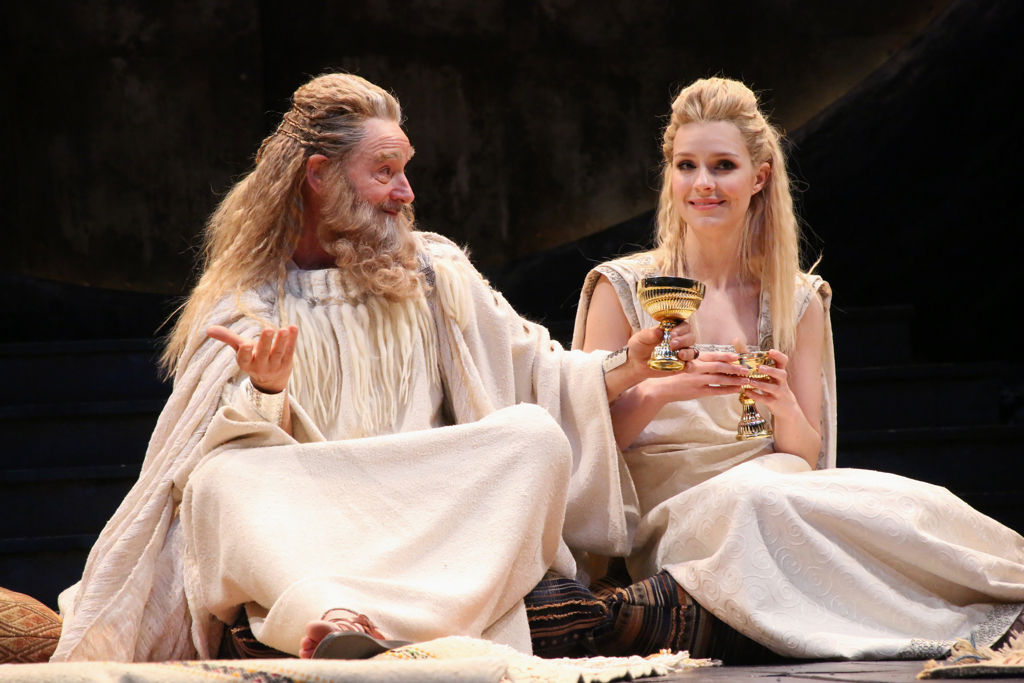 ONE MISSISSIPPI (pilot)
Directed by: Nicole Holofcener, Amazon Prime, Starring Tig Notaro, John Rothman, and Noah Harpster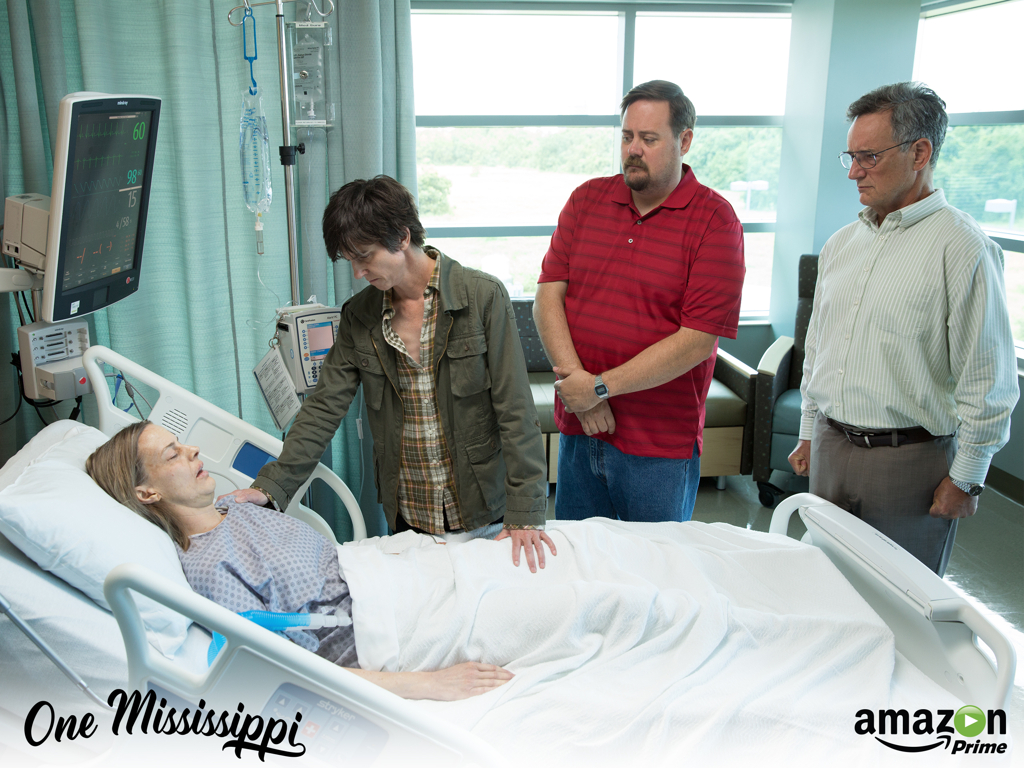 …….."a dryly funny John Rothman her stepfather"- The New York Times
"But John Rothman as Ms. Notaro's stepfather is masterfully and purposely wooden. . — Indy Wire
"But like the best stand-up, it is already so acutely observed that you can't help being pulled in to the comic's frame of mind. In this context, seeing the stepfather (John Rothman) soften, just a little, toward the end of the episode delivers a surprisingly large payoff." –Chicago Tribune
THE HOMECOMING, by Harold Pinter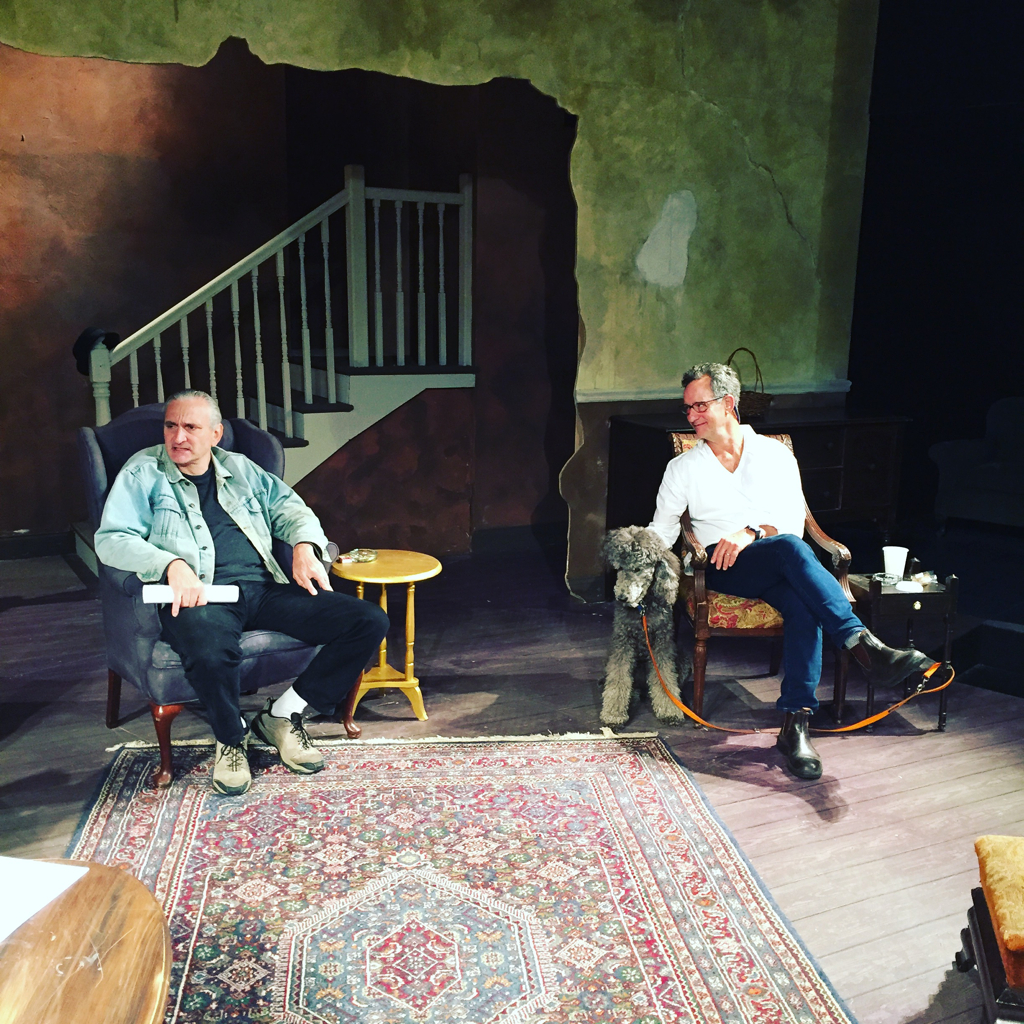 Directed by: Eric Hill, The Berkshire Theater Group, Stockbridge, Ma.
"John Rothman seemed to me perfectly cast as Sam." — Berkshire on Stage and Screen
THE IMPORTANCE OF BEING EARNEST, by Oscar Wilde
Directed by irene Lewis, Center Stage, Baltimore
"John Rothman, returning to Center Stage more than 30 after his career-launching fellowship here, did marvelous things with … the good Reverend Chasuble. Rothman conveyed a thoroughly fleshed-out, lovable old coot of a vicar even before uttering a word, and confirmed the impression with an amusingly idiosyncratic vocal style.", The Baltimore Sun
AWAKE AND SING by Clifford Odets
Directed by: Elina De Santos, Berkshire Theater Festival, Stockbridge, Ma.
"John Rothman … turns Myron into a man of hopeless gentleness. It is Rothman's small gestures that bring Myron Berger to life." –The Berkshire Eagle
RODNEY'S WIFE by Richard Nelson
Directed by: Richard Nelson, Williamstown Theatre Festival (Williamstown, Ma.) and Playwrights Horizon, New York City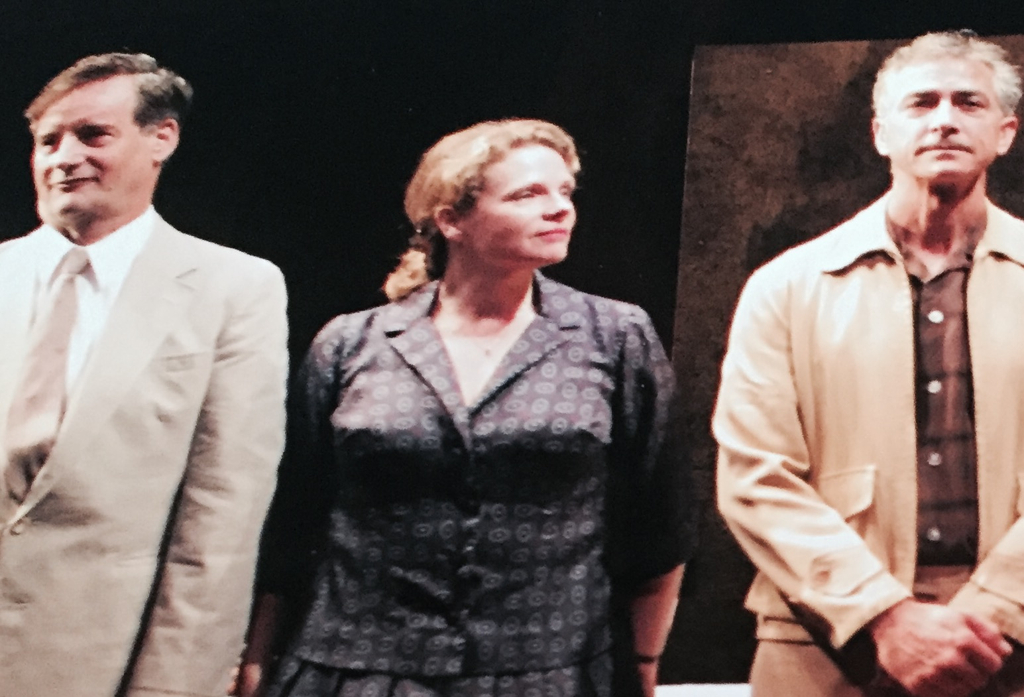 "John Rothman … quite good!" — David Finkle, Theatermania
SOME AMERICANS ABROAD, by Richard Nelson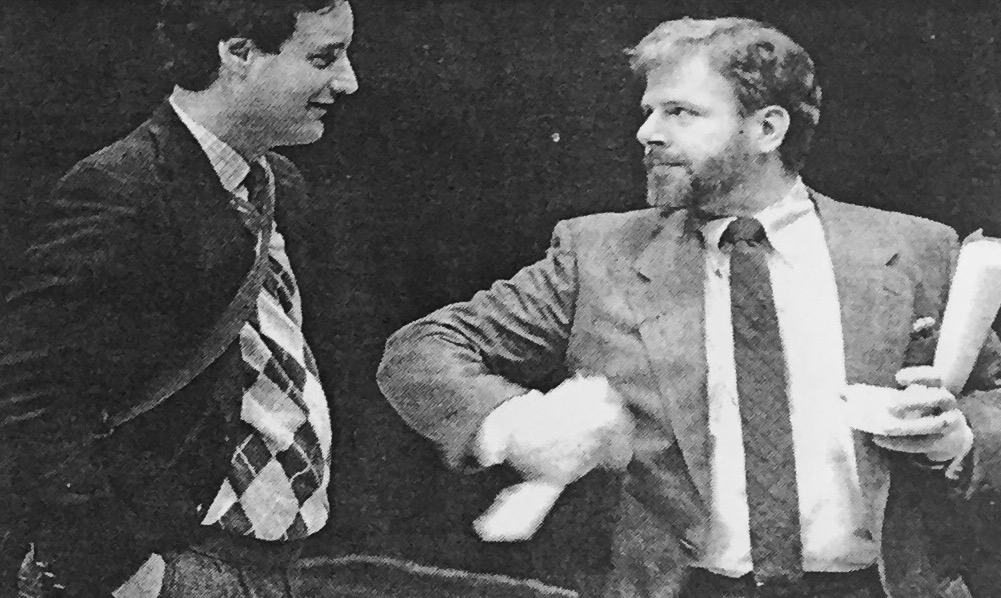 Directed by: Roger Michell, Lincoln Center, New York City
Photo: Brigitte Lacombe
"Exacting … as an overly friendly American visitor." — The New York Times
"Wonderful." — Mimi Kramer, The New Yorker
"Perfection." — John Simon, New York Magazine
TALLEY'S FOLLY, by Lanford Wilson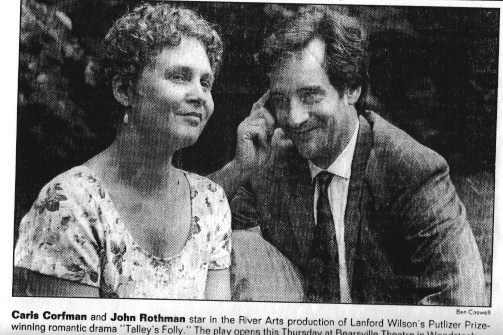 Directed by: Lawrence Sacharow, River Arts, Woodstock, N.Y.
"John Rothman is a richly accented Matt, catching the character's irony and quirky vitality and the serious determination behind it." — The Freeman
"Played with humor and conviction by Rothman." — Woodstock Times
"John Rothman brings an … undeniable warmth to the role of Matt. There's an ingratiating air about him that makes it almost impossible to see why Sally resists his charms." — Poughkeepsie Journal
ROMANCE, by Ernest Joselovitz
Directed by: Carol Rocamora, Philadelphia Theater for New Plays
"Best of the lot was John Rothman. … He was the picture of the frightened romantic, terrified to commit but ultimately unable to do anything else. His performance was frighteningly real." — Chestnut Hill Local
"Disarmingly offbeat." — The Philadelphia Inquirer
John Rothman- funny and a little sinister at the sme time stands out. Rothman is the unblessed specimen of imperfection and truly moving. Center City Times
DEATH DEFYING ACTS, by Woody Allen, Elaine May and David Mamet
Directed by: Michael Blackmore, Variety Arts Theater, New York City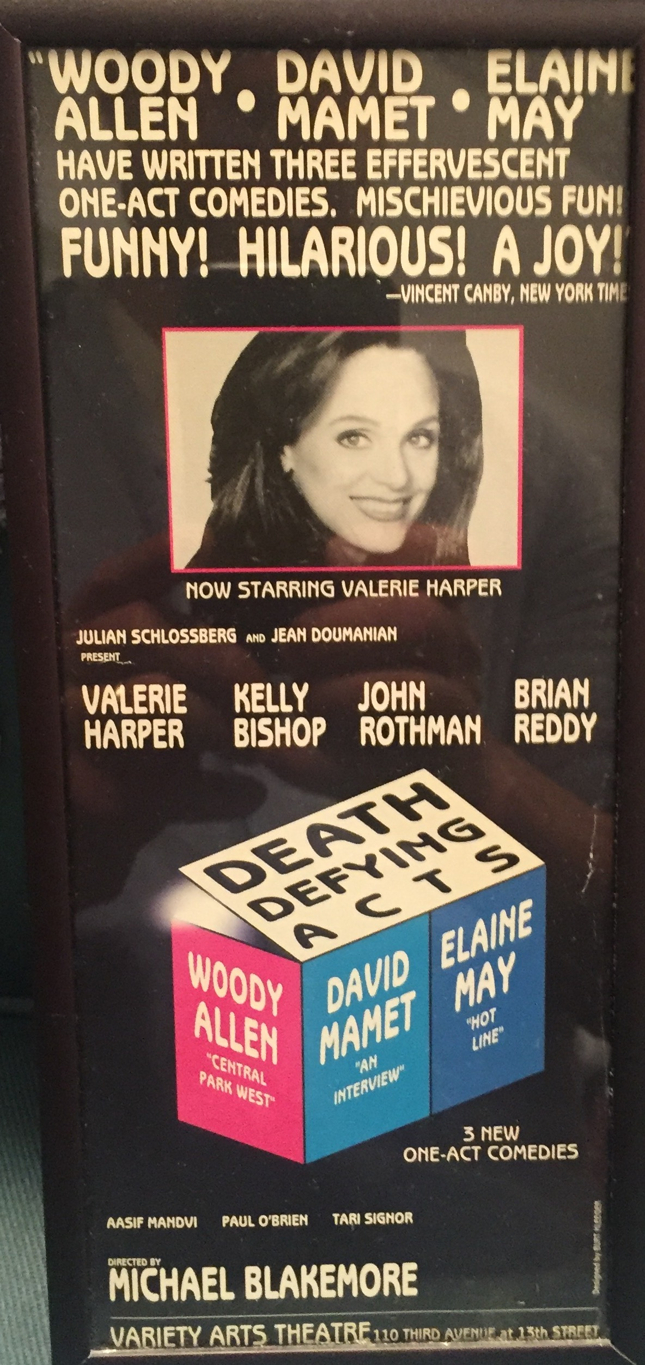 "An amusingly beleaguered ladies man about to run out of ladies to run out on…, Rothman also scored as the frantic suicide-line counselor in Hotline." — Clive Barnes, The New York Post
A FLEA IN HER EAR by Faydeau
Directed by John Tillinger, The Long Wharf Theater, New Haven, Ct.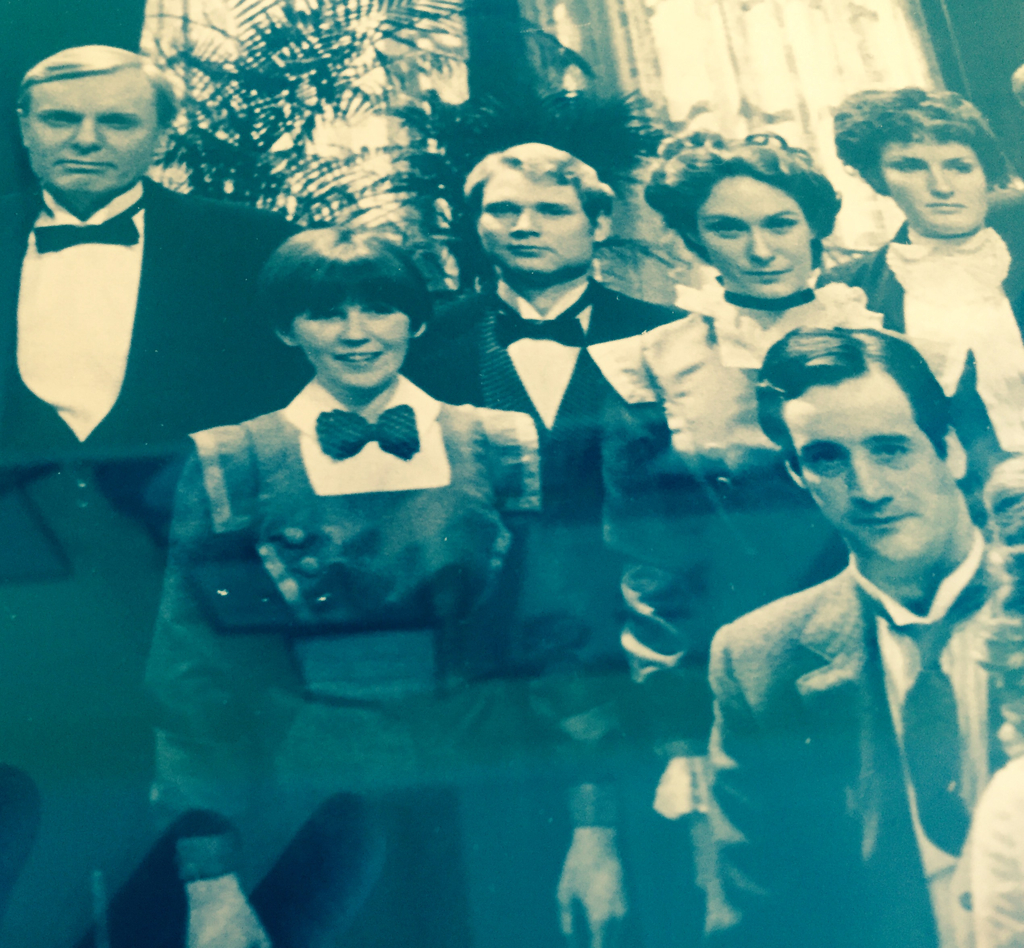 "In Feydeau, even a cameo can be a scene-stealer, as is true with the valet, a role that Laurence Oliver reserved for himself in the National Theater production. At Long Wharf, the valet is played by John Rothman with a deadpan sense of drollery." — The New York Times
THE ADMIRABLE CRIGHTON, by J. M. Barrie
Directed by: Ken Frankel, The Long Wharf Theatre, New Haven, Ct.
"Standouts include … the affected, witty, likable Ernest of the energetic, sprightly John Rothman whose moves and timing are truly marvelous" — The Hartford Courant
"An actor who shapes performance to suit character is John Rothman as the foppish, juvenile Ernest Wooley. Every time he utters a maxim, Rothman illustrates mannerisms of a personality he has totally absorbed." — New Haven Bulletin
THE ITALIAN STRAW HAT, by Eugene Labiche
Directed by: Steve Kaplan, Manhattan Punch Line, New York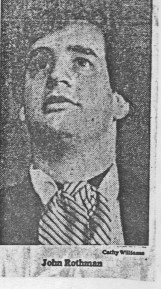 "The leading farceur in this production is John Rothman. Mr. Rothman plays his character, a bridegroom with a wide-eyed innocence (literally wide-eyed, he doesn't even blink) and deep seated guile. it is a happy combination for farce." — The New York Times
"Rothman works beautifully under desperate conditions reducing the cool young groom to pure frenzy." — The New York Post
ABSURD PERSON SINGULAR, by Alan Ayckbourn
Directed by: Arvin Brown, Long Wharf Theatre, New Haven, Ct.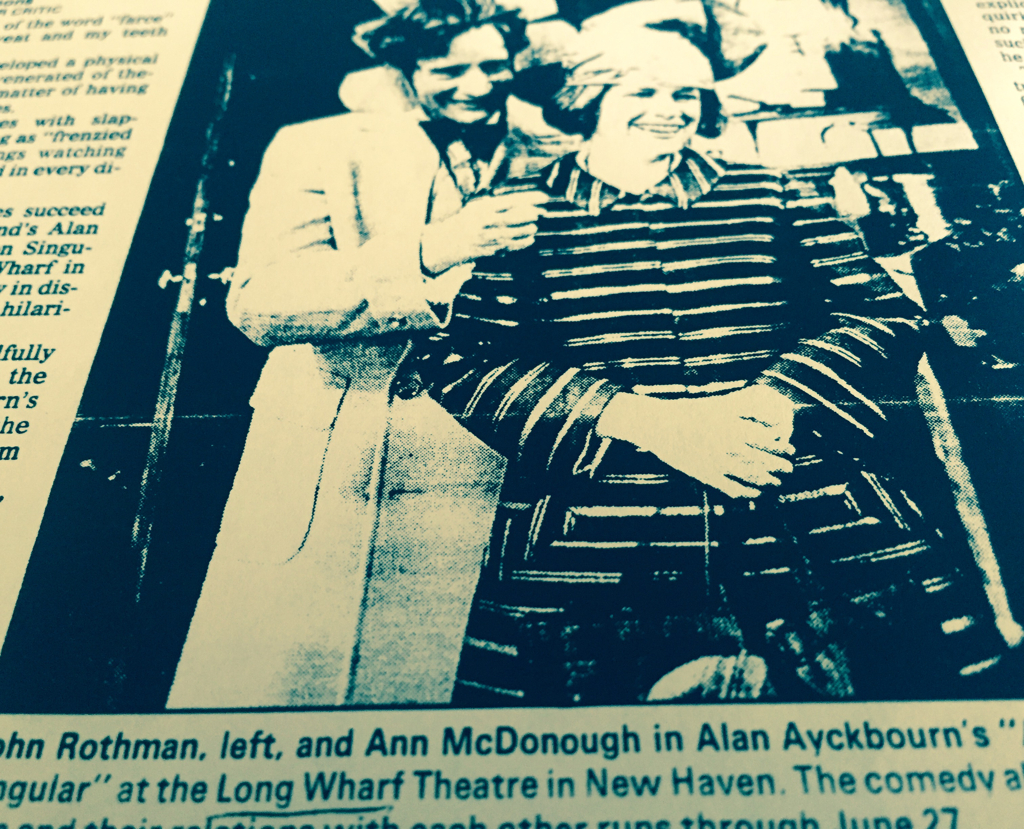 Rothman and McDonough were the best of the bunch. New England Newspaper Agency)
John Rothman draws a ridiculous but engaging portrait of the Great Britain's new man of the 80s vulgar, able and proud as a peacock of his conquest of an empire, Harford Courant
Both Ann McDonough and John Rothman are hilarious as the lower class couple who prove ambitions enough to have every one literally dancing to their tune by evenings end. The Wall Street Journal
————————————————————————————–
STARDUST MEMORIES, BY WOODY ALLEN
Photo: Brian Hamill
Directed by: Woody Allen
MOVIES Stardust Memories director Woody Allen I giggled all the way through it – …… the excellence of the performances of Miss Rampling, Mari -Christine Barrault and John Rothman – a Columbia University Film teacher and Jessica Harper , his mixed up girlfriend. The Baltimore Sun
—————————————————————————————
COPYCAT
Directed by: Jon Amiel
Photo: Melissa Moseley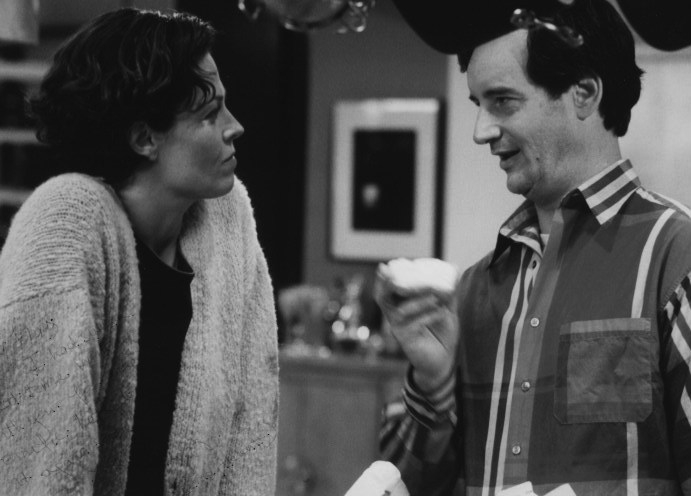 Copycat Director Jon Amiel ….Sigourney Weaver is well tended by a charming assistant (John Rothman). Unfortunately there are long hours when the assistant isn't around-The New York Times
Landscape with Waitress
Directed by: Jeffery Townsend. Starring John Rothman and Nurit Koppel.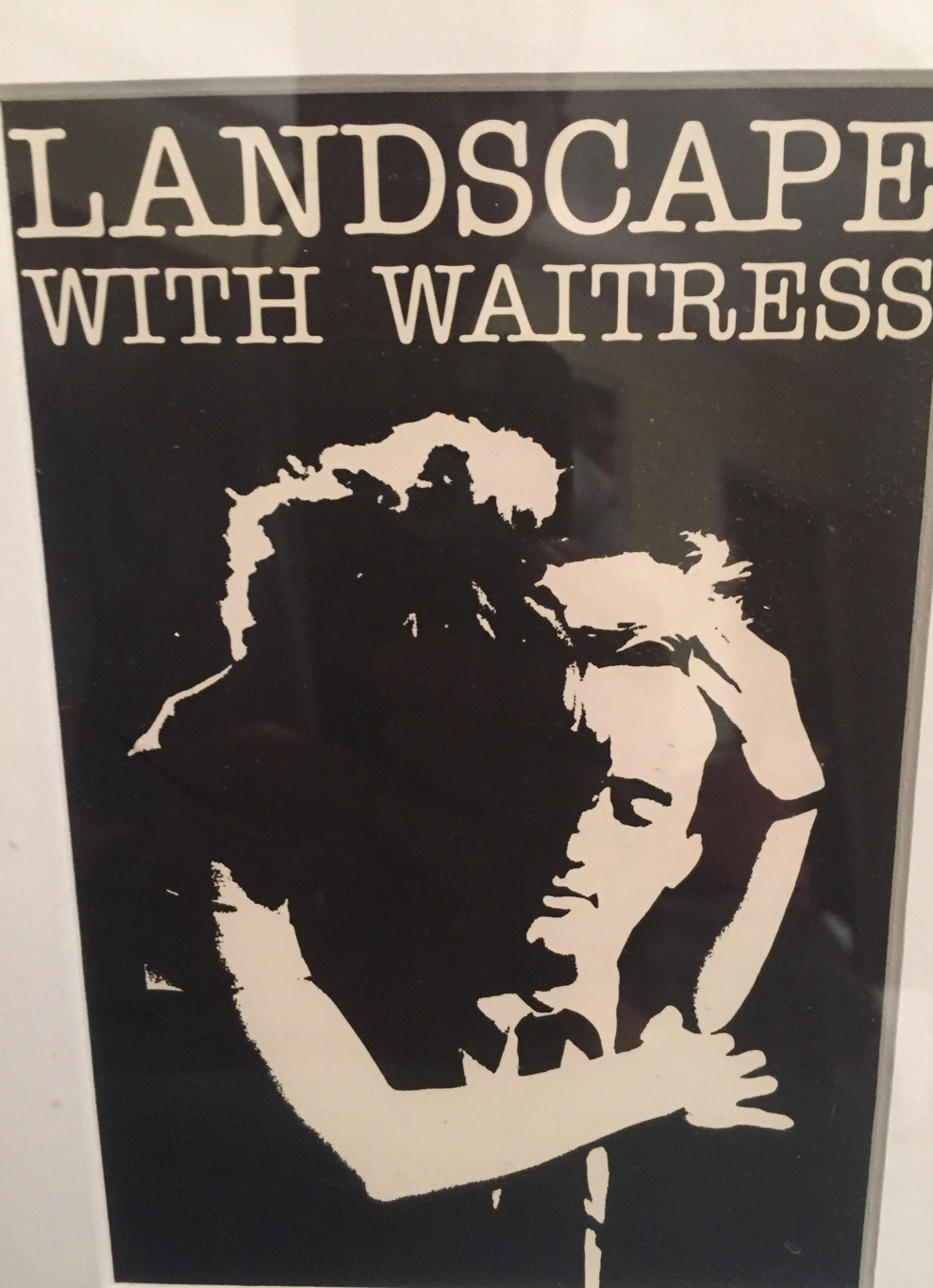 The freshest breath of air I've smelled from PBS in a while- Grade A- Jeff Jarvis, Entertainment Weekly
The Impossible H. L. Mencken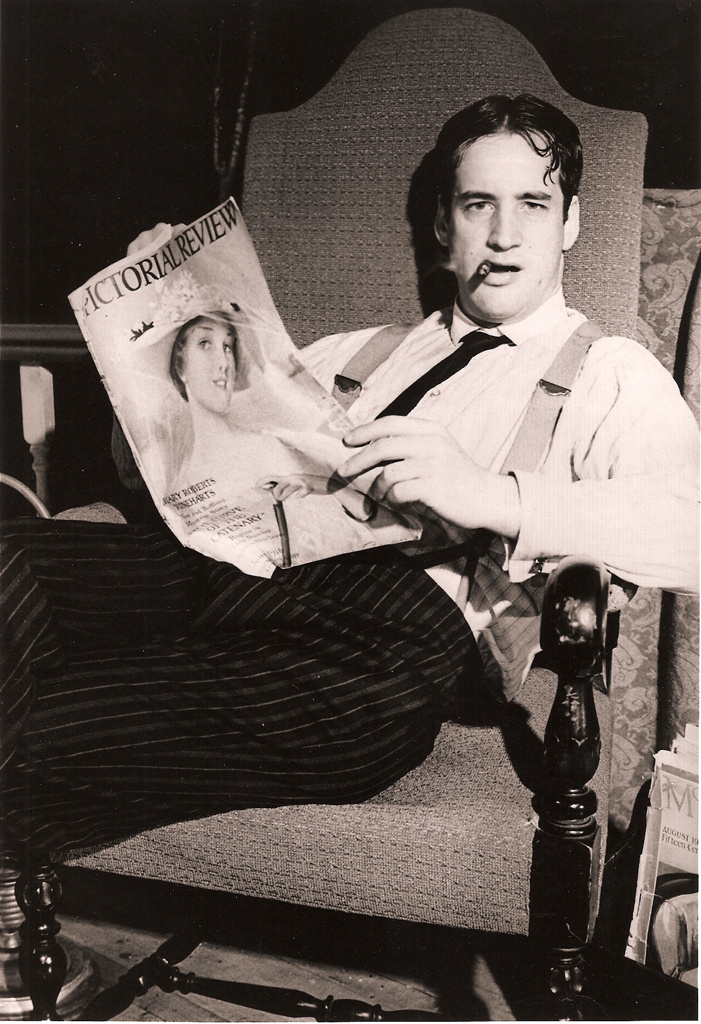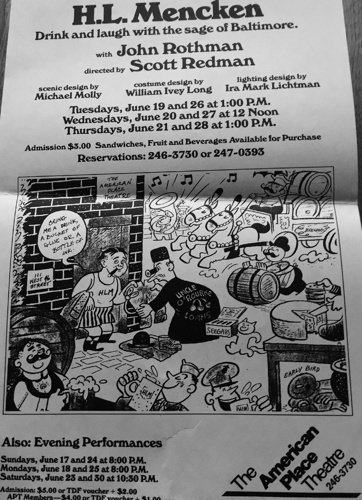 NEWSWEEK:
JACK KROLL WROTE:
"We hear the great blaster of buncombe harpoon some of his favorite fish: politicians, prohibitionists, actors, idealists, belieivers in the imoortality of the soul and other "idiots." At once twinkliung and truculent, with the raspiness of a young George C. Scott, Rothman fuses these obiter dicta to create a real character portriat of a complex spirit, a poet in spite of himself. This self-mocking poetry emerges when the blissfully pickled Mencken, geasturing dremily with his eternal cigar, describes the waltz as "sneaky, insideous—like the murmur of the illimitable sea or the sweet gurgle of a pretyy girl." —
THE NEW YORK TIMES REVIEWED THE SHOW TWICE:
RICHARD F. SHEPARD
H.L. Mencken, the Baltimore bldgeon who had a comment, entirely disrespectful, for everything that crossed his mind, enlivened the first half of this century for millions of readers. "The Impossible H.L. Mencken" is an amusing presentation, a broadside of vintage Mencken . Mr. Rothman delivers Mencken with assuredness but not with any more bombast than inheres to the lines…..it works mostly, and works well!
MICHIO KAKUTANI
"As Mencken, Mr. Rothman is a convincing curmudgeon, chomping on his proverbial cigar while attacking the pieties of the day with gleeful delight."
THE NEW YORK POST,
Marilyn Stasio.
By the end of this convivial evening. Mencken is half in the bag, his impersonator is half out of his rumpled suit and we are in love with both of them." —
THE NEW YORKER. EIDTH OLIVER
"Mr. Rothman has chosen skillfully and the material- the strongest and funniest and most exhilarating since Hal Holbrook's Mark Twain- more than carries the day" — The New Yorker
ROTHMANS' MENCKEN ON FILM
Good Night Valentino -( 2003) Sundance Selected short Starring Eduardo Ballerini as Valentino and John Rothman as H.L Mencken.